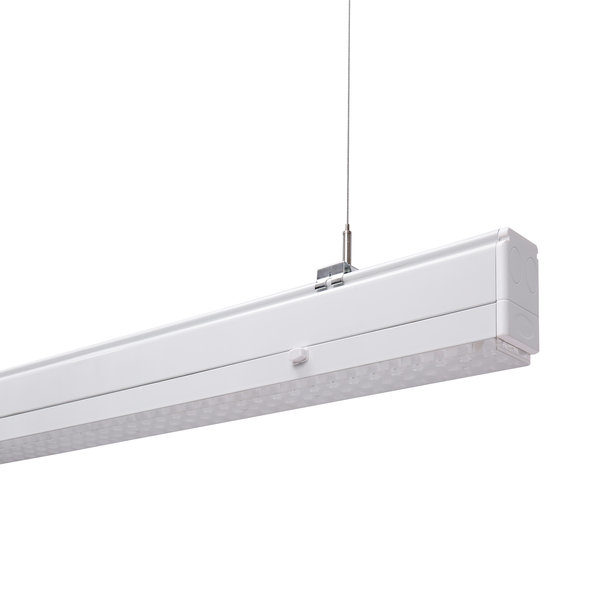 BRILLIANT PRO is a highly efficient light strip system (up to 169 lm/W) for tool-free quick assembly, which with 7 different optics is suitable for a wide range of applications in industry and trade. The new TIR lens optics with 90°, 60°, 30°, 25° asymmetrical left/or right and double asymmetric radiation achieve very good glare values, even < with 90° UGR values 22 can be achieved.
The light strip lamps (device carriers) are equipped with very durable control units (Tridonic EXC or PRE, 100,000 operating hours) and can be adjusted via a small box via dip switch in 8 power levels from 16 – 68 W (max. 10,000 lm). This means that the luminous flux can also be adjusted retrospectively in the field at any time.
The normal support rail already includes an 8-pin (6 x 2.5 mm2, 2 x 1.5 mm2) through-wiring system. The light strip system can already be used very flexibly in the basic version.
The BRILLIANT PRO system has IP40 protection and has a D-mark for fire-prone plants. In the version with 120° beam angle (polycarbonate cover), the light strip luminaires have the impact resistance class IK10 and are suitable for use in industry, logistics and trade.
A wide range of colour temperatures 3000 K, 4000 K, 5000 > K and 6500 K (each CRI 80, special colours e.g. 3500 K on request) as well as the optional Tridonic PRE driver with DALI and Constant Lumen output complete the BRILLIANT PRO product line.
Variants with switchover for central battery systems or single battery (3 h) are available on request. In the single battery variant, 3 phases can also be used in dimming mode, as the 8th pole is occupied with continuous current.
3000 K
4000 K
5000 K
6500 K
120°
90 °
60 °
30°
25° SA
25° DA
Data Sheet & Photometric Data: